Recruitment Agency for the Isle of Wight.

Isle of Wight Jobs are the islands leading permanent recruitment specialists with a database of over 28,000 candidates.
We are here to provide you with skilled staff in a simple, cost effective and risk free way.
We are committed to improving the recruitment process for businesses and work-seekers on the Island.
We understand that sourcing permanent, skilled staff for your business is a time consuming and sometimes an unproductive use of your in-house resources.
At Isleofwightjobs.com we have the knowledge and the contacts to be able to find you the right member of staff for your team. We have access to a unique and varied database of over 21,000 Isle of Wight based work-seekers and we have the tools to swiftly match their skills with your requirements.
No advertising fees, no administrative pressure, no risk. Our service is completely free to try! When we find you the right match, and they have joined your company, that's when you pay, so you risk nothing up front. We are so confident in the quality of our candidates, that we will even give you 2 weeks to get them settled in before we collect our fee.
No catches, no hidden charges, just a chance for us to shine.
We give you a professional, efficient and ethical service, with qualified staff on hand to help you with everything from responding to unsuccessful applicants, to arranging interviews and dealing with salary negotiation.
It's very simple, if we don't fill your vacancy, you don't pay us a penny. No fill, no fee.
We qualify all applicants and obtain key details prior to any introduction, meaning you only ever see applicants who have the suitable skills, work rights and qualifications that your role requires.
We know that you would rather see a small number of suitable applicants, than hundreds of unsuitable ones. As a result, our clients receive a high quality service with a focus on the quality of our applicants, not the quantity.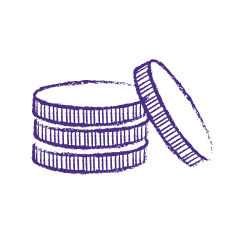 Our flat-rate fee is simple and easy to understand with absolutely no hidden costs. We offer a risk free service that can be used to fill any role, in any sector, at any level.
So, don't waste your time and money, searching for staff, call us today on 01983 475110 and let us do the hard work for you. You have nothing to lose.