Adult Care Worker Apprentice- Homeinstead
Salary: £135 per week
Contract Term: Apprenticeships
Contract Type: Full time
Location: Cowes
Posted on 11 October 2021
Closing Date: 01/11/2021

Apprenticeships / Health & Social Care

Tweet
Here at The Isle of Wight College we work with a number of employers, in a vast array of industries. A fantastic opportunity has arisen to work for Homeinstead Isle of Wight as a Trainee Adult Care Worker supporting their outstanding domiciliary teams.
This is a unique opportunity for a Trainee Assistant Adult Care Worker Apprentice. Home Instead Senior Care are an industry leading home care provider franchise network based in the UK and Worldwide. Home Instead have a commitment to the older people they support to "change the face of ageing". All of the staff employed by Home Instead are handpicked on their attitude and commitment to support our older generation to live well at home for longer. We strive to exceed our client's expectations and ensure that all our clients feel valued and that all interactions with them are positive.
Tasks and Responsibilities will include:
Providing a variety of non-medical services that allow clients to remain in their own homes and to enhance the quality of life. To help clients and their families meet the challenges of aging with dignity, pride, care and compassion.
Personal care services (Medication reminders, help with bathing, dressing and grooming, assist to eat and drink etc)
Provide Dementia, Alzheimer, respite, convalescence care.
Organise mail and write letters.
Plan and prepare tidy away meals, organise, tidy cupboards and check food expiry dates.
Offer companionship and conversation
Run errands/ collect prescriptions/ accompany to appointments.
Perform light housekeeping duties (dusting, vacuuming, making beds, change bedlinen, clean bathroom, kitchen take waste out etc.)
Desired skills
Good communication and inter personal skills
Empathy
Organised
Attention to detail
Team player
Good time keeping and communication skills are vital.
Follow and implement instructions
Have good literacy and numeracy skills
Show a willingness to learn and be trained
Attributes/mind set:
Confident
Enthusiastic
hard -working
Committed
Promote and demonstrate effective communication at all times as per Mountbatten values
Assist in the reception of patients, their relatives and general JCC visitors
Participate in team meetings
Identify and use the most effective means of communication, appropriate to the situation and individuals involved.
Manage own behaviour in a positive manner in order to maintain effective working relationships
Observe complete confidentiality of all information including awareness and adherence to the legal requirements of the Data Protection Act.
Respect the contribution of all team members
Assist other clinical areas within the Organisation if the clinical situation or staffing levels require
Qualifications Required
Ideally 5 GCSE Grade C/4 or above (or equivalent qualification) in English and maths.
Apprenticeship Framework
Level 2 Adult Care worker
Apprenticeship duration will be between 12 -18 months
Functional Skills - if not already achieved a GCSE C (or above) in maths, IT and English (or equivalent qualification)
There is a requirement to complete 20% off job training, College attendance will contribute but time spent either learning something new, other courses or any support work you that is not your usual role will also be counted
Working Week
30 Hours a week over 5 days and will include evenings and Weekends
Wage
Closing date for applications will be Friday 3rd September 2021 and interviews for successful applicants, which will be held shortly after.
Required to provide a new DBS Certificate every three years in line with the Disclosure and Barring Policy and Procedure
Your details will be processed and recorded in accordance with the Data Protection Act.
You can also apply for this role, and see the job description by emailing: recruitment@mountbatten.org.uk
The current National Minimum Wage (NMW) rate for apprentices is £4.30 per hour. This applies to 16-18 year old apprentices and those aged over 19 in the first year of their Apprenticeship. For all other apprentices the National Minimum wage appropriate to their age applies. The Minimum Wage for Apprentices applies to time spent on the job plus time spent training. For more information visit: www.gov.uk/national-minimum-wage-rates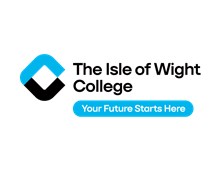 The Isle of Wight College
Island Training is the specialist employer training arm of The Isle of Wight College offering local business and individual's access to high quality training across a wide range of industry sectors.
Login to see the contact details for The Isle of Wight College