Customer Service Apprentice- EE Glass
Salary: £5.75 per hour
Contract Term: Apprenticeships
Contract Type: Full time
Location: Cowes
Posted on 11 October 2021
Closing Date: 02/11/2021
Job Start Date: ASAP

Apprenticeships / Customer Service

Tweet
Here at The Isle of Wight College we work with a number of employers, in a vast array of industries. A fantastic opportunity has arisen to work for EE Glass LTD in Cowes.
The Customer service Apprentice on the Trade Sales Counter is the first point of contact for our existing and potential trade customers. They will provide excellent customer service and assist with all customer quotes and queries.
Tasks and Responsibilities will include:
The roles and responsibilities of the Customer Service Apprentice are:
To provide potential and existing customers with the highest level of customer service and support the sales team.
Communicate effectively between sales and production to help meet the needs of the customer
Process quotes accurately and efficiently with correct pricing and delivery date.
Maintain up to date product and industry knowledge
Stocktake and ordering
Other supportive sales duties
We are looking for an enthusiastic person to join our friendly team; you must be able to talk to people at all levels.
Be flexible and work effectively as a member of our successful team
Work and communicate effectively with the team
Provide consistency and high standards in all you do, with attention to detail.
Be self-confident, ambitious and motivated
Desired skills
Good communication and inter personal skills
Organised
Attention to detail
Team player
Good time keeping and communication skills are vital
Follow and implement instructions
Show a willingness to learn and be trained
Be able to work independently or under supervision
Be confident in using Microsoft packages.
Attributes/mind set:
Confident
Enthusiastic
Hard -working
Committed
Punctual and hard-working
Calm in a busy working environment
Methodical and orderly in your work
Qualifications Required
Ideally 5 GCSE Grade C/4 or above (or equivalent qualification) in English and maths
Apprenticeship Standard
Customer Service Apprenticeship Level 2
Apprenticeship duration will be between 12 -18 months + 3 months for End Point Assessment
Functional Skills - if not already achieved a GCSE C (or above) in maths, IT and English (or equivalent qualification)
There is a requirement to complete 20% off job training, College attendance will contribute but time spent either learning something new, other courses or any support work that is not your usual role will also be counted
Working Week
One day per month to be spent at the college
37.5 Hours per week, Monday – Friday (pattern to be confirmed)
Wage
£5.75 per hour, 7.5 hours per day (Paid Monthly)
ALL APPLICANTS MUST SUBMIT A CV WITH A SUPPORTING COVERING LETTER
Closing date for applications will be Friday 2nd October 2021 and interviews for successful applicants will be held shortly after.
Your details will be processed and recorded in accordance with the Data Protection Act.
The current National Minimum Wage (NMW) rate for apprentices is £4.30 per hour. This applies to 16-18-year-old apprentices and those aged over 19 in the first year of their Apprenticeship. For all other apprentices the National Minimum wage appropriate to their age applies. The Minimum Wage for Apprentices applies to time spent on the job plus time spent training. For more information visit: www.gov.uk/national-minimum-wage-rates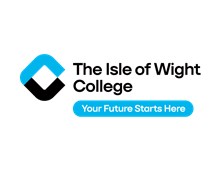 The Isle of Wight College
Island Training is the specialist employer training arm of The Isle of Wight College offering local business and individual's access to high quality training across a wide range of industry sectors.
Login to see the contact details for The Isle of Wight College