JPR Combustions Office Administrator - Isle of Wight College
Salary: 4.30 an hour
Contract Term: Apprenticeships
Contract Type: Full time
Location: Ryde
Posted on 19 November 2021
Closing Date: 19/11/2021
Job Start Date: 06/11/2021

Administration / Apprenticeships

Tweet
Here at The Isle of Wight College we work with several employers, in a vast array of industries. A fantastic opportunity has arisen to work for JPR Combustions Ltd as an Office Administrator.
Established in 2001, JPR Combustions Ltd provides reliable heating and gas service assistance for both domestic and commercial customers throughout the Isle of Wight. The Office is based on the outskirts of Ryde, in Ashey.
JPR Combustions Ltd are looking for an enthusiastic apprentice to train in the role of Office Administrator and join their friendly team. This role will offer a variety of experience providing reception and general administrative assistance and support within their busy office. Their experienced team will give full on the job training; all they require is a candidate to demonstrate commitment, good communication skills and to have a motivated attitude. Computer literacy is essential and full training will be given on the specific systems and databases used by their office team and engineers. In addition, your own method of transport is required as the Office is not located on a bus route.
The Role / Main Responsibilities:
To answer phones calls in a polite, professional manner, passing on clear messages.
To make job bookings over the telephone.
To answer and act on emails.
To liaise with engineers, keeping an eye on their day-to-day schedules.
Monitor office stationery stock levels.
To offer and undertake any administrative support or duties required by the Company Directors.
Essential Skills:
A good working knowledge of basic IT programs (MS Word / Outlook and Excel). Ability to operate relevant databases.
Maintain manual and computerised records / management information systems.
Accurate data entry and excellent record keeping.
Excellent organisation skills and attention to detail.
An ability to prioritise tasks.
An ability to be self-motivated and to work well with others in a team environment.
Attributes/mind set:
Confident
Enthusiastic
Hard-working
Committed
Punctual
Calm in a busy working environment
Methodical and orderly in your work
Well-presented
Qualifications Required
Ideally 5 GCSE Grade C/4 or above (or equivalent qualification) in English and maths
Apprenticeship Framework
Business Administration level 3 standard
Apprenticeship duration will be between 12 -18 months + 3 months for End Point Assessment
Functional Skills - if not already achieved a GCSE C (or above) in maths, IT and English (or equivalent qualification).
There is a requirement to complete 20% off job training, College attendance will contribute but time spent either learning something new, other courses or any support work that is not your usual role will also be counted.
Working Week
37 Hours a week over 5 days, including some Saturdays.
One day per week to be spent at the college
Wage:
Paid weekly and in line with the National Minimum Wage rate for Apprentices.
ALL APPLICATIONS MUST BE SUBMITTED WITH A COVER LETTER AND CV.
Closing date for applications will be the 19th November 2021 and interviews for successful applicants will be held shortly after.
Your details will be processed and recorded in accordance with the Data Protection Act.
The current National Minimum Wage (NMW) rate for apprentices is £4.30 per hour. This applies to 16-18 year old apprentices and those aged over 19 in the first year of their Apprenticeship. For all other apprentices the National Minimum wage appropriate to their age applies. The Minimum Wage for Apprentices applies to time spent on the job plus time spent training. For more information visit: www.gov.uk/national-minimum-wage-rates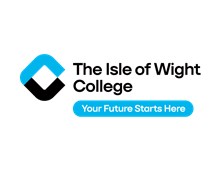 The Isle of Wight College
Island Training is the specialist employer training arm of The Isle of Wight College offering local business and individual's access to high quality training across a wide range of industry sectors.
Login to see the contact details for The Isle of Wight College