Full Time Studio Personalisation Assistant - Oh So Cherished
Salary: TBC
Contract Term: Permanent
Contract Type: Full time
Location: Isle of Wight
Posted on 12 June 2017
Closing Date: 26th June 2017
Job Start Date: ASAP

Retail

Tweet
Oh So Cherished is a growing fast paced online personalised gift company who is looking for an awesome person to join our already awesome team.
The position is for a creative person who will be assisting the engraving of all our personalised products on our engraving machines, laser machines and heat presses. We personalise products such as cufflinks, glassware, keyrings, wooden boxes to jewellery & t shirts. We are ideally after someone with experience in this area but if not, someone who is definitely creative and has a super attention for detail and type setting skills.
We will fully train the successful candidate on all machines.
We are initially looking for someone to work 9-5pm Monday - Friday. We are after someone who is flexible and able during busy seasonal periods to work overtime or weekends (this is essential).
Job Requirements
• Excellent grammar & written English skills
• Computer literate (all our machines are computer based)
• Exceptional attention to detail with spell checking/proof reading skills
• Creative flair is a must (a background in design or typesetting is desirable)
• Good knowledge of Adobe Illustrator
• Self motivated, proactive & ambitious
• Type setting skills
• Happy to work to deadlines and not compromise on quality when working under pressure
• Very organised with a can-do attitude is essential
• Good trouble shooting skills
As we are a small team of 12 we are after someone who can work well as a team. The successful candidate may be required to work in other areas of the business, such as Quality Control or Dispatch at times and so a flexible approach is required.
We are based in Gatcombe Nr Newport, so access to your own transport is recommended.
Our Website: www.OhSoCherished.co.uk
Please apply to Jenny Crowe through the Isle of Wight jobs system only, ensuring you include an up to date CV and cover letter, telling us a little bit about yourself and your current/expected salary details.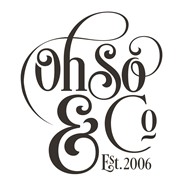 Oh So Cherished Ltd
We are an online personalised gift company based Nr Newport on the Isle of Wight.
Login to see the contact details for Oh So Cherished Ltd