Care Assistants – Better at Home
Salary: To be discussed at Interview
Contract Term: Permanent
Contract Type: Part time
Location: Isle of Wight
Posted on 9 June 2017
Closing Date: Friday 7th July

Health & Social Care / Miscellaneous / Nursing

Tweet
Here at Better at Home we believe in providing quality care to our clients across the Isle of Wight. The clue is in the name – we're all about ensuring our clients are able to continue independence within their own homes while receiving a helping hand from our dedicated carers; after all, everything really is better at home.
We cover various locations across the Island and now we have positions available for Care Assistants to help out with the care of our clients. .
What do we look for?
We look for people with a can do, happy to help attitude who always go above and beyond. Ideally you will have previous experience within a similar role that has required you to offer support to someone, whether this be as a Carer or within more of a customer focused role.
Better at Home cater for a variety of needs, including those with dementia, physical disabilities and learning disabilities – it's important that you are a compassionate individual who has a real passion to make the lives of those less able, a much happier and enjoyable experience; in this position, you have the power to really change someone's day!
Day to day your role will include the personal care of our clients, administering medication (previous experience highly desirable), housework calls, cleaning calls and transport calls.
On offer is a rewarding role and a 30-hour contract or a zero hour contract depending on your availability and commitments.
Due to the nature of this position, you will ideally have your own transport and be happy to cover various locations. Should you wish to only work within the area / surrounding areas you live and not have your own transport, we still welcome your application as we may have positions that can accommodate this.
If you want to take up the opportunity to make a difference to the lives within your community, we would love to hear from you! Please complete the attached application form and upload it as you would a CV, including a covering letter specifying why this role would be ideal for you and what areas you wish to work within.
We look forward to hearing from you – The Better at Home Team.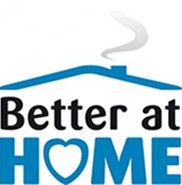 Better at Home
Login to see the contact details for Better at Home