WOW! Centre Manager (Job Share)
Salary: £24,000 – £28,000 per annum (pro rata) dependent on experience
Contract Term: Fixed Term
Contract Type: Part time
Location: Newport
Posted on 13 February 2018
Closing Date: Midday, 1st March

Charity / Voluntary / Health & Social Care / Management & Executive / Social Work

Tweet
An exciting opportunity has arisen for a motivated and enthusiastic woman to join our team at WOW! Women's Centre to job share with our current manager. Over the past year we have established a diverse timetable of events and activities and with this we have seen extensive growth in our membership and timetable. If you wish to join an exciting enterprise which is continuing its journey of learning and development, this may be the position for you!
This role is to oversee the day to day running of WOW! and provide effective leadership to a team consisting of paid staff and volunteers whilst facilitating coproduction in planning, delivery and evaluation of all aspects of the centre.
You will play a vital part in providing quality support to all women and girls as well as taking responsibility for safeguarding. Although funding is secured until August 2020, we would also like you to assist in sourcing and securing funding for the long-term sustainability of WOW!
It is essential that you have a strong understanding and at least two years' experience of working with severe and multiple disadvantages faced by women and girls, and understand how this can impact on their lives. You will also need experience of managing teams, consisting of paid workers and volunteers.
It is important that you are an excellent communicator with organisational and motivational skills. You will be involved in the implementation of policies and promoting / marketing of initiatives including social media management and event coordination!
------------------------------------------------------
A little bit about WOW!
WOW! Women's Centre is a Big Lottery funded project with secure funding currently until August 2020. We are based in Newport on the Isle of Wight. WOW! Women's Centre exists to empower and support women and girls on the Isle of Wight who are (or have) experienced severe and multiple disadvantages and provide a safe space. WOW! is a centre of coproduction and has over 500 members.
Many members of WOW! include those exposed to domestic abuse, poor mental health, financial hardship, bullying, hate crime, self-harm, eating disorders, estrangement from family, grief, disability/long term health conditions, social isolation, (so called) honour-based abuse, forced marriage, sexual exploitation, sex work, addiction, interaction with social care and experience of the Criminal Justice System.
General support is offered at WOW! such as help with CV writing and responding to job interviews, but most importantly, a listening ear is available over a cup of tea (and occasionally a piece of cake). WOW! also offers a packed programme of events including arts and crafts, cooking and baking, accredited training and courses, book groups, henna club, pilates, singing, yoga, massage, holistic therapies, and peer-led support groups relating to issues such as addiction and grief.
More information about us can be found here: https://www.wightdash.co.uk/.
------------------------------------------------------
To apply, please follow the link below and download an application pack; more details on the role can be found here as well. Applications can be returned via email to info-wow@btconnect.com or by post in a sealed envelope marked "Private & Confidential" to Laura Franklin, 4/5 St James' Street, Newport, Isle of Wight, PO30 5HE.
WOW! Women's Centre values diversity, promotes equality and challenges discrimination. We encourage and welcome applications from women of all backgrounds and experiences.
This service is run by women for women and is therefore restricted to women applicants under the Equality Act 2010, Schedule 9, Part 1. Section 7(2)e of the Sex Discrimination Act 1975 apply. The post is exempt from the Rehabilitation of Offenders Act.
An enhanced DBS (Disclosure Barring Service) disclosure will be required for this role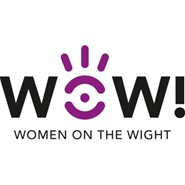 WOW! Women's Centre
WOW! Women's Centre is a Big Lottery funded initiative run by the charity Wight DASH.
Login to see the contact details for WOW! Women's Centre