Experienced Chefs – Pointer Inn
Salary: Good Rate of Pay Dependant on Experience
Contract Term: Permanent
Contract Type: Full time
Location: Newchurch
Posted on 6 June 2017
Closing Date: Friday 23rd June

Catering, Hospitality & Bar / Chefs

Tweet
Pub food perfected and award winning ales, The Pointer Inn has an established reputation for quality dishes using the freshest local ingredients, which provide the inspiration for our Chef's specials, changing on a daily basis to work with the seasons.
We are now looking for Experienced Chefs to join the rest of our established brigade, producing excellent quality dishes with a refreshing take on home style cooking. Hearty food in the heart of Newchurch village.
Sourcing ingredients locally is something we are passionate about! We encourage Islanders to trade their home-grown produce for food and beer, then feature their name in the title of the dish when we use their ingredients, keeping the local element pumping through the pubs veins.
What we need from you as our Chef, is passion, ambition and a desire to always learn more. You will be amongst a supportive team, who can offer you guidance to get you up and running, but with previous kitchen experience, you should have no trouble picking up the Pointer way of doing things.
As a popular country pub, we get particularly busy across peak times such as evenings, weekends and especially throughout the summer therefore, your ability to keep a calm head and work methodically is a skill we will be looking for. The only thing that should be melting in the heat of our kitchen, is the slow roasted pork belly.
In return for your ambition and dedication to us, we can offer you an excellent working environment with hours that give you a good work life balance, meaning we can work around your commitments to the best of our ability. If you would prefer all straight shifts and long hours across less days per week, then this is something we can consider for you.
PLEASE NOTE: Due to the location of the Pointer, having your own transport will be essential. There are no frequent running buses therefore you cannot rely on public transport.
Sound like an opportunity for you? Please apply below ensuring you attach a CV and a short cover note telling us a little about yourself and your previous experience.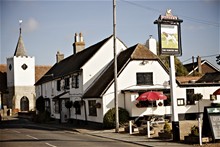 The Pointer Inn
The Pointer Inn, Award winning pub with enphasis on quality, localy sorced, home cooked food.
Login to see the contact details for The Pointer Inn