Chef - Away Resorts
Salary: Up tp £8.50 per hour
Contract Term: Seasonal
Contract Type: Part time
Location: Bembridge
Posted on 24 January 2018
Job Start Date: 24/01/2018

Catering, Hospitality & Bar / Chefs / Travel & Tourism

Tweet
What we need in a nutshell
We need someone who can lead and inspire a busy kitchen team; someone who understands that food and drink are central to a happy holiday.
Some of the background
We're not your average holiday company. Our guests come to our UK resorts to experience a world away from their day-to-day. When they are with us, they play crazy games, enjoy show-stopping entertainment and live in the moment. Our job is to surprise and delight them at every turn.
We need you to be the person who ensures that we deliver delight on a plate to our guests. As head chef and kitchen manager you will make sure everyone on the kitchen is working together to create delicious meals in a well-run kitchen.
The nitty gritty of what you'll be doing
As part of our slightly bonkers team of holiday heroes, you will manage and inspire the kitchen team to produce brilliant meals to our high standards. This will include:
Managing the kitchen team in food preparation and cooking
Ensuring presentation of menu items to a high standard.
Monitoring and implementing operational cleanliness and food hygiene
Training and supporting team members to help them be the best they can be
You will lead from the front, setting the standards for your team and motivating, coaching and supporting them to be outstanding.
One more thing…holidays happen at holiday times and eating and drinking goes on in into the night, so you'll need to work your magic on bank holidays, evenings and weekends too.
Skills, experience and qualities you'll need
Are you dynamic, determined and enthusiastic? Do you thrive on providing memorable guest experiences and want to be part of a great team? These are the essential qualities for our kitchen manager. You will also
Have an NVQ and relevant food hygiene certificates.
Have knowledge and experience of catering and its many challenges
Genuinely want to create memorable meals
Show evidence of your superb people management skills
Have the leadership, drive and commitment to deliver delight consistently
It's about your values too. We have a can-do, fun loving, people centred ethos here at Away Resorts, which is captured by our holiday heroes' mantra of Attentive Amazing Lovers – if that's fired up your curiosity, have a read about it here and decide if it describes you.
Nice to have but not essential
It would be great if you tick some of these boxes too (but we won't hold it against you if you don't).
Experience of working in a holiday park
Experience of working in an pizza/pasta establishment
Want to join our team? Here's how to apply
https://isw.changeworknow.co.uk/awayresorts/vms/e/careers/positions/d5f2nXZYzkHysNklnf8Q3n
If you're new to our website, we'll prompt you to register. If you've already registered, you can simply log in. Then complete your details and send us your best version of you.
That could be a vlog, blog or a Snapchat story; it could be a good old CV – if it is a CV, make sure you add a note or covering letter to say why you're the one for the job.
It's up to you what you say and how you say it; whatever makes you feel good and tells your story best.
Good Luck!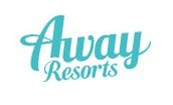 Away Resorts Limited
Holiday Park
Login to see the contact details for Away Resorts Limited