Food & Beverage Team - Blackgang Chine
Salary: Great rates of pay
Contract Term: Seasonal
Contract Type: Full time
Location: Ventnor
Posted on 15 January 2018
Closing Date: Thursday 25th January

Catering, Hospitality & Bar / Customer Service

Tweet
Join our F.A.B team at Blackgang Chine (that's Food and Beverage to you and me - it's a great team).
About you…
If you're friendly, enthusiastic and work well as part of a team, like our friend in the picture, then we want you to come and say hello.

We have very high standards which means we are really looking for individuals who can help us deliver these throughout the whole season. You'll need to enjoy working in a busy environment and have a passion for making sure our customers have a brilliant time with us. You need to be available 5 days a week and flexible with your working hours. Not forgetting you need to be able to smile!
About the Role…
You'll be working within our cafes or in the smaller food outlets dotted around the park, preparing and serving our customers tasty meals and delicious snacks. It's a busy job, everyone loves a bite to eat while they're having a great time in the park so you will need to be willing to roll your sleeves up and get stuck in.
What's in it for you….
We have great rates of pay and a variety of shifts
There's plenty of parking available on site or you can catch the bus which drops you right outside the park.
Some pretty cool benefits are also available to you, including 6 family passes which means free access to the parks (Robin Hill AND Blackgang Chine) while you're working with us
If you like what you have read and you know you can deliver the great experience our customers deserve and expect, then apply now!
Send us your CV and add a little bit about yourself in your accompanying note, we want to hear about you, so tell us three things:
How are you going to get to work?
Can you work at least 25 hours a week?
If you have visited Blackgang Chine, what was your best memory of the park?
That's enough from us – what are you waiting for, apply now!
Interviews will be held in January.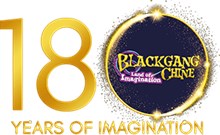 Robin Hill and Blackgang Chine
Robin Hill Country Park is part of the Vectis Ventures Ltd group which also owns Blackgang Chine near Ventnor, Isle of Wight.
Login to see the contact details for Robin Hill and Blackgang Chine