Accounts and Administration Support – The Garlic Farm
Salary: £7.50 per hour
Contract Term: Permanent
Contract Type: Part time
Location: Newchurch
Posted on 26 May 2017
Closing Date: Friday 23rd June

Accounting / Administration / General Office

Tweet
The Garlic Farm is a busy and renowned Isle of Wight attraction where we pride ourselves in providing a unique and inspiring experience with excellent customer service, quality produce, garlic and farm related education and access to the countryside - a beautiful and pleasant place to work for our staff.
We are looking for a mature and reliable individual to offer support with the Accounts and Administration of The Garlic Farm, alongside our small team in the offices that work behind the scenes to help keep things running smoothly.
Working as our Account / Admin Support will require you to demonstrate a methodical approach to your work while being proactive and logical in the way you approach day to day challenges.
You will find yourself offering support to the existing Administration and Accounts team, dealing with duties such as data entry and general admin tasks. These elements of the role mean we are looking for someone holding experience with Microsoft Office and ideally Sage. Sage experience isn't essential however, it would be a distinct advantage if you have knowledge of this.
The Garlic Farm offers a fantastic working environment with a close-knit team who pride themselves on contributing towards the overall success of The Garlic Farm brand.
This role will be set across three afternoons a week, between 2pm – 5pm on Monday, Wednesday and Friday, ideal if you are someone looking at taking up some additional hours within your area of expertise, or to work alongside other commitments!
Please Note: Due to our location, having your own transport is essential for this position.
If you feel you have the skills and experience we are looking for, then we would love to hear from you!
Please send us your most recent CV by using the option below, ensuring you include a covering letter detailing your relevant experience and why you want to join the Garlic Farm team.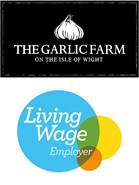 The Garlic Farm
Set in the Isle of Wight's beautiful Arreton Valley, The Garlic Farm is all about garlic. The history, mystery and magic of this plant has intrigued and seduced people from all over the world for hundreds of generations. We've been growing it ever since Mrs Boswell planted her first kitchen garden crop 30 years ago. The garlic farm has grown bulb by bulb over the years and now produces over twenty garlic varieties, countless tasty products and has a popular farm shop and restaurant which are visited and enjoyed by many.
Login to see the contact details for The Garlic Farm