General Manager – No 64
Salary: £20,000 - £25,000 p/a
Contract Term: Permanent
Contract Type: Full time
Location: Shanklin
Posted on 1 February 2018
Closing Date: Friday 23rd February

Catering, Hospitality & Bar / Management & Executive

Tweet
Proudly standing as Shanklins most stylish and exciting cocktail bar, No64 has gone from strength to strength since first opening its doors early last year and is now a popular go to destination, whether customers are looking for a quiet light lunch or a tasty cocktail in the evening.
We now need an experienced, knowledgeable and motivated General Manager to take on full responsibility of the business.
No two days will be the same in your role at No 64, you can expect variety and challenges along the way, but it goes without saying that this is a fantastic opportunity for someone to have a positive impact on this growing business and really put their stamp on the place.
As General Manager, you will be a motivator to your team, offering them guidance and ensuring you execute a staff development plan to allow for career progression opportunities within your team.
Not only will you be a leader and the face of the business, you will be hands on working closely with the rest of your team as well as carrying out general admin duties such as cashing up, processing wages, invoicing, ordering and setting the rotas.
More of your duties and responsibilities will include:
Full responsibility of the Cafe/Bar
Staff appraisals and audits
Accurate and safe money management
Banking
Work to strict budgets and guidelines and KPI's
Social media management
Ensure standards and due diligence are adhered to at all time
Liaise with local suppliers and community
Ensure licensing objectives are upheld at all times
Ensure all regulations and acts are adhered to at all times
DPS of the venue
We are looking for you to hold at least five years Hospitality Management experience with at least two years as a General Manager. A good working knowledge of food, wines, spirits and cocktails will be essential, as is your passion for providing an excellent customer experience.
Due to the nature of the role, strong administration skills (particularly with excel) will be required, as well as you being a personal license holder.
This role will see you working 5 days out of 7, to include evenings and weekends with late AM finishes, equating to 40 - 48 hours per week.
Please us send your CV and a brief cover letter introducing yourself by using the option below.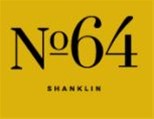 No 64
Welcome to No 64 - the stylish and exciting cocktail bar on the beautiful Isle of Wight. Based in the heart of Shanklin, our impressive food and drinks menu caters to all tastes from savoury snacks to juicy cocktails. With regular live entertainment on offer, why unwind anywhere else?
Login to see the contact details for No 64